So once again I have neglected the blog front. I am going to attempt a relatively painless recap from the past erm 12 months!
After toughing out a Euro winter up till Feb I headed across the pond to Arizona for some early season racing. This time I was fending for myself. I had a rough outline of how I wanted my 3 months over there to pan out but had no means of getting from A to B or making sure I had a roof over my head. Fortunately the american hospitality did not disappoint and I landed myself some incredible hosts over my time there. The racing went ok and I found some form towards the end. My sister came over to visit whilst I had a rest week. We'd planned a fun week of touristing the west coast. Slight hiccup in Vegas saw an end to the gambling and emergency gall bladder surgery. Highlights of the 3 months included- racing down the corkscrew at the Laguna seca speedway, spending a week with Courteney Lowe training in San Diego, racing with the Pinnacle crew and living in the Smith family's norcal mansion. And some less reminiscent times, driving 13hrs on my own in a hire car through a desert sand storm and getting t boned by a car warming up for a crit but other than that it was pretty awesome.
I don't hang around when it comes to occupying empty seats on planes
The desert, not ideal for mid ride pee stops...
San Diego fun
Feeding my sister up on ice 'chips' post surgery in Vegas
Racing around the almond blossom trees in Cali
La Jolla, rest day bliss
My ride courtesy of my host fam in Norcal, pretty proud at getting it in the parking bay it needed photographic proof
Going to whizz through the next chapter quickly. So I flew home, picked up the inevitable plane cold. Jumped on my beaut new team Velocite bike, raced Cheshire Classic. Got pipped on the line, came home pretty cross! Raced the Bedford 3 day, got taken out in the first stage. Peeled my road rashed bod off the travel lodge bed sheets to take a close 2nd in the TT. Hobbled home to get dosed up on antibiotics because with my grandma circulation my cuts don't heal in a hurry. Then headed out to Belgie thanks to the generous financial backing from the Dave Rayner fund. I don't love Belgium but Oudenaarde is probably the most happening place to base yourself if you are a cyclist. Lots of great roads, kermesses on your door step and amazing weather (lie). It rained solidly for 3 weeks (not a lie), I was going spectacularly badly and required daily HTFU pep talks. Jason, who kindly put me up is a prof chef cooked up some amazing post race comfort food. Paleo principles kind of go out the window when you are in the land of crepes and waffles and sweet potatoes are like gold dust.
Cheshire lost in a bikes throw
Fun times at Bedford
1 month after the crash!
2nd for us in the Bedford TTT
I headed home for nationals. But first for some tests to find out why I was so empty. They instilled some peace of mind, but no quick fixes so I went into the road race aka super long crit with my fuc* it head on. I had a good ride, bridging across to the escapees finishing 2nd U23 and 8th overall. The only non world champ on the podium, I think I'll take that. From Glasgow I went with the rest of my matrix teamies to Northumbria to train in the hills for a week and hang out in a castle. No second class treatment on this team! My run of good legs and energy didn't last and another month of sucking was on the cards. I took a rest to try and rekindle something before the Tour of Brittany. No luck there and I found myself making groupetto buddy's.
Rookie with the champagne
Castle fun
I came home instead of staying out in Europe and made some changes. My time at home plus heat wave has done me the world of good. I have almost become fond of England! Its always good to catch up with friends and take yourself out of the pretty fickle cycling world. With my family all away in NZ its been quite peaceful with no siblings to wind me up. Just a full time job of harvesting the veggie patch! With a completely new approach to training I have found my legs again. A 2nd place to the dominant Hannah Barnes in the Ryedale GP gave me back some confidence. Last weekend was the London GP, an amazing event. World class comp in the queens back yard! Was cool to have some fam and friends to support me in a race so close to home. The following day I took part in the London 100 with my team mates Jessie and Hannah, the equivalent of the London Marathon for bikes I guess. We were part of the Skoda team for the day, representing our awesome sponsors. We had a fun cruisy day which started by getting chamoised up at 4.50am! It was amazing riding through traffic free london and through the Blackwall tunnel the wrong way. What was not so amazing was trying to find my car which we had had to abandon enroute to the start due to all the road closures. The lettering of the street name I biro'd into my hand had semi washed off and a n/r letter confusion made for a long day in the saddle searching the city for the old peug!
Crit racing around the queens pad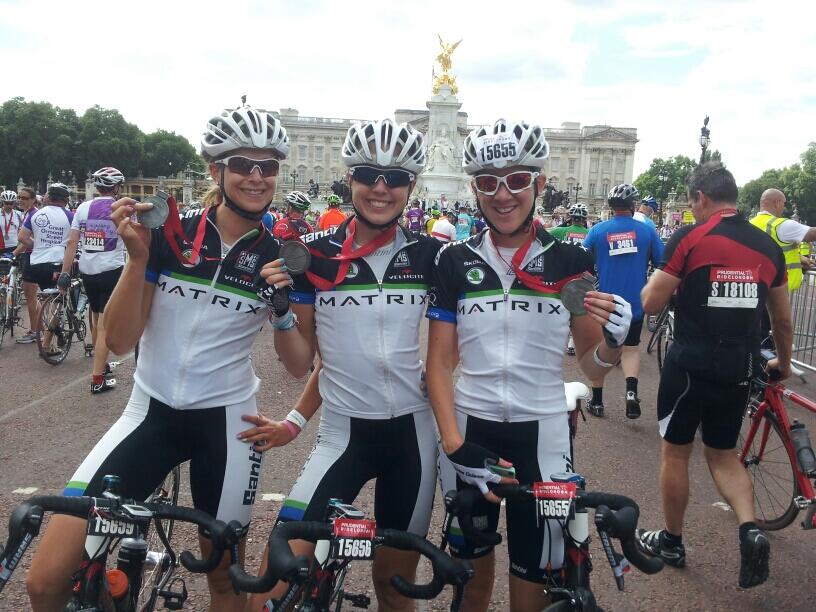 Ride London 100 with Hannah and Jessie
For now I am focussing on training for the Tour de l'Ardeche in September and finishing the season on a high. The season is going so quickly although it seems like an eternity since I took a win in AZ in Feb. Before I know it lectures will be starting again, believe it or not I am going into my final year at uni (don't ask how many weeks I have spent in Bath).
Thanks for reading. Ciao for now xx
(Photo's with credit to: Paul Douglas, Andy Whitehouse)